RapScript iOS App 2.0 released
16. October 2015
The 2.0 version of RapScript is finally out and available to download!
What's new?
Design
RapScript 2.0 has a cleaner, sleeker, and more responsive design, letting you focusing on what counts the most: words and skills!


Tap Mode
The new "Tap Mode" lets you decide when a new word appears, eliminating the time limit and giving you the chance to be inspired at your own pace.


Languages
As our app gets used in more and more freestyle sessions all over the world, we decided to add two more languages to it: Italian and Portuguese. You can choose from a total of 6 languages (English, German, Spanish, French, plus the new Italian and Portuguese)!


iPad Version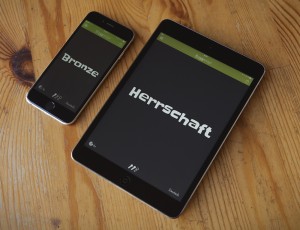 When you download RapScript (on your iPhone or iPad), the app will seamlessly work on your iPad in both portrait and landscape mode, without the necessity to zoom.
iOS9
Last but not least, RapScript 2.0 is fully compatible with the latest iOS update.
What are you waiting for? Download the new RapScript, pick up the mic and show us what you got!

Your Rapscript Team R-dent & Zero2012